★★★★★
Waiting For Gandalf
I've been trying to write this review for ten days now. When your blog is a hobby and Godot's opening night comes to town in the middle of a school show, I remembered this blog's title … and so The Drama Teacher put Godot aside until the storm at work settled down.
Something irks me when the purest of non-commercial theatre, Samuel Beckett's 1953 masterpiece Waiting For Godot, creates box office records in London and goes on an international tour with Gandalf from The Lord of the Rings at its heart. "Something is rotten in the state of Denmark" cried Hamlet's Marcellus. This performance has it all … the good, the bad and the ugly.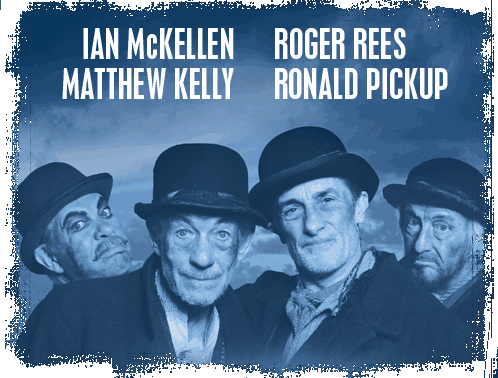 The Good The cast is strong. Many 'in the know" are disappointed the Australian and New Zealand tour of the Theatre Royal Haymarket production of Godot does not include original London cast members Simon Callow and Patrick Stewart. Nevertheless, this ensemble retains its draw card in Sir Ian McKellan as Estragon, then adds Roger Rees as Vladimir, Matthew Kelly as Pozzo and Brendan O'Hea as Lucky. The actors are uniformly consistent and very skilled. If you're going along just to see McKellan shine, then be warned there is no star in Beckett's Godot, nor should there be. Vladimir and Estragon equally share the stage as the play's twin protagonists and if you want me to nit-pick, I preferred the talent of Roger Rees over Ian McKellan, anyway. For me, McKellan mumbled way too often, was difficult to both hear and understand at times, while Rees' interpretation of Vladimir was easier to engage. Kelly's camp, over the top portrayal of Pozzo was a comic delight.
The Bad We'll start with the post-apocalyptic-type set, complete with crumbled wall at the rear and ruined mansion pillars downstage left and right. As with Shakespeare's plays, Waiting For Godot demands a bare stage (in this case with the sole addition of a single tree) and any interpretation that attempts to tart it up, usually fails. It was quite acceptable on one level, but the question remains as to whether it was suitable? Adding to the "bad" was the soundscape by Paul Grothuis. Satisfactory? Yes. Necessary? No. We'll finish with the overstated direction by Sean Mathias that resulted in several audience gags and a comic theatricality with Vladimir and Estragon that made me shudder (appropriate only for Pozzo). There is indeed a comic side to Godot clear in the text for any good director to interpret, but this was Godot for the masses. If you're a purest, try The Gate Theatre of Dublin's interpretation, performed at the Melbourne International Festival of the Arts in October 1997. Often hailed by critics as "the definitive Godot" (if there is such as thing), you can now see this performance on DVD in the Beckett box set.
The Ugly Anything that commercialises Beckett's Waiting For Godot falls into the "ugly" category. The $130 ticket price tag. The $40 signed lithographs of the actors. The $20 programme. Where was my Godot coffee mug, I cry? Damn, I've got a whole cabinet of Broadway musical mugs at home! Whoops! My slip. That's right. This was not Broadway … or was it? We all get sucked in and yes, I bought my programme and signed lithograph of Ian McKellan. True, McKellan was known as one of Britain's leading stage actors for decades before The Lord of the Rings trilogy opened him up to a whole new generation of audiences. It's not his fault that much of the opening night audience were really Waiting for Gandalf, not Godot at all. But as skilled as McKellan truly is at treading the boards, one has to worry about what this production of Waiting For Godot was really about … the money or the art?
Melbourne season concludes 23 May 2010.